Commercial Junk Removal Services in Santa Rosa, CA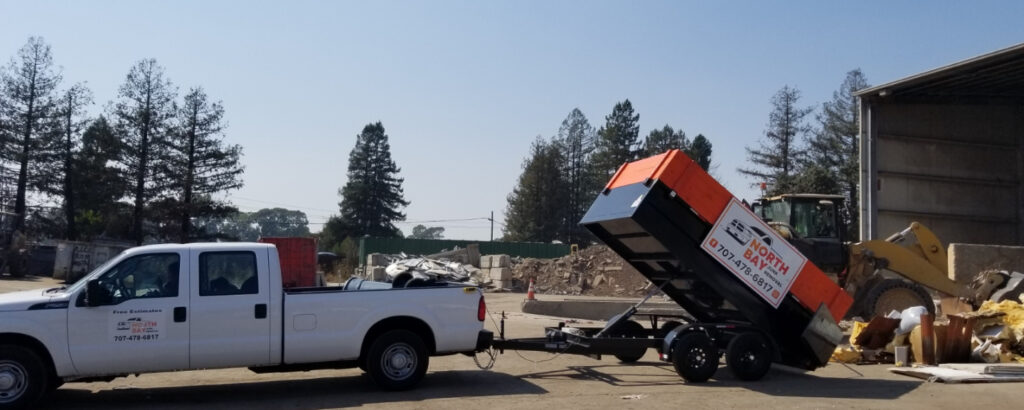 Perfect Commercial Junk Removal Services in Santa Rosa, CA
North Bay Junk Removal offers quick, thorough, and low-cost commercial junk removal services in Santa Rosa, CA. We can handle any project: office moving, cleaning, remodeling waste, demolition, and real estate clean-up. Our team members are professional, prompt, and prepared, and they can handle any size job. Our crews are also equipped to handle the small-scale renovation, relocation, and disposal projects.
Best Solutions To Your Waste Removal Problem
North Bay Junk Removal understands that you have a lot on your plate, and we have a solution for you to lessen your burden by offering commercial junk removal services in Santa Rosa, CA. We can handle it if your house is in disarray or your office appears to be overrun with junk. Our workforce is well-trained and always up to the task at hand.
Services by North Bay Junk Removal
Our services vary as per your requirements. However, the primary services we offer are:
Construction Debris removal
Electronic waste recycling
Real Estate Solutions
Commercial and Corporate Junk removal
With the constant use of supplies in commercial businesses and buildings, it's a weekly or monthly task of having the junk removed to stop it from piling. NORTH BAY JUNK REMOVAL has made it easier for you in Santa Rosa, CA & surrounding areas, as you can now use our junk removal services. We have the personnel and the equipment needed by commercial businesses.
Waste Removal and Recycling
Commercial businesses do not need to worry about junk removal. You can reach us at NORTH BAY JUNK REMOVAL, through a phone call to avail our professional junk removal services. We remove waste and come up with a way so that it doesn't destroy the environment. The experts of NORTH BAY JUNK REMOVAL will take away all of your stress and clean up the waste and make sure it's properly disposed of or processed
Large Commercial Junk Removal
The commercial business may have to remove the junk that is quite large and spacious in size and might need towing. You can get it towed away extremely easily by hiring the experts at NORTH BAY JUNK REMOVAL. Our Santa Rosa experts strive to provide our customers with the best quality of work available.
Post Construction Cleaning
You want to move to a place that's clean and healthy after the construction. The professionals of NORTH BAY JUNK REMOVAL win customer satisfaction by delivering timely construction cleaning. Our professionals use the safest techniques and latest tools for post-construction cleaning.
Commercial Junk Removal Services Santa Rosa
Professional Commercial Junk Removal Services Santa Rosa
If you're looking for an office cleaning service in Santa Rosa, you've come to the right place.
Our commercial junk removal services Santa Rosa is the quickest way to clean up your space and make room for new projects. Whether it's as simple as getting rid of an old conference table, some cubicle dividers, obsolete washroom fixtures, or as complex as complete office space overhauls, we can take care of everything.
What Can North Bay Junk Removal Do For You?
We specialize in assisting offices and businesses in removing unwanted or broken furniture, fixtures, carpet, partitions, cubicles, and other bulky waste.
We take pride in recycling and reusing the products and ensuring that the trash ends up in a landfill or at the recycling centers.
Experienced Professionals At Your Service 
We've done office and commercial cleanouts before, as well as furniture removal.
Cubicles and fixtures,
clean and scour the area with our high-powered vacuum to remove any debris
prepare a place for move-in or new build-outs.
[contact-form-7 id="395" title="Service Form"]
Are You Interested In Estimate, Call Us Now!